August 14, 2015
Tactically, it's hard to underpin what exactly went wrong for Arsenal on their first fixture of the season beyond a bad day in the office. West Ham's diamond formation should have suited them; with no coverage on the flanks, Arsenal could theoretically move the ball left and right until they found the moments of superiority that they usually do out wide i.e. 3v2s, 2v1s followed by a third man run. (Indeed, this is something that they did superbly in their 2-0 defeat of Liverpool in 2013 against a similar system). Instead, passes too frequently missed their target while off-the-ball, The Gunners looked lethargic in the press.
Arsene Wenger chose to put the bad performance down to nerves and certainly, the psychological factor cannot be overlooked. After the game he said: "I felt we were a bit nervous and we rushed our game a bit. We didn't always respect the basics. We wanted to be too quick going forward in first half. I don't think we were too confident, I would rather say too nervous maybe". We know all about Arsene Wenger teams and their struggle to master their emotions. In more recent seasons, the issue has been against big teams where the players (and the manager) seem so anxious to make a statement, that when things are not going their way, they can "crack" –and badly – from which there is no fallback position. Paul Hayward of The Telegraph calls this a "conviction deficit". Arsenal seemed to have bucked that trend last season by their performances away from home against Manchester City and Manchester United, and then, in the Community Shield last week when they beat Chelsea. Yet, by plunging the sword into one of their demons, another one has surfaced in the form of this strange, reversing hex which takes effect in the games where Arsenal are overwhelming favourites. In those games, Arsenal seem to crumble under the weight of expectation, too nervous to play their usual game (think about the FA Cup semi-finals against Wigan and Reading, and then the final against Hull City). Again, The Gunners seemed to get over this superiority complex in the cup final against Aston Villa, where they delivered a performance a calmness and clinical precision to prevail 4-0. However, against West Ham, that anxiousness to play – to make an impression – reared it's ugly head again, pervading their play such that, to compensate, Arsenal tried to play too fast.
But going back to tactics: I think positional indiscipline also had a part to play in the poor performance – which may tie in closely with nerves anyway, but which I'm hoping doesn't run through the side in the same way.
We all know that Wenger likes to grant positional freedom to his attacking players, especially to one of the wingers, in this case Santi Cazorla. The key is to find moments where they can destabilize the opponent defence through overloads, and when they set up a triangle on one side, combine quickly with each other to tear open the defence. The issue in this game was that both wide players sought to come inside too early in the build-up, thus not offering the outlet when those overloads are created. You can contrast this with the last time the two sides met: Arsenal won 3-0 and the average touch positions showed that Walcott and Alexis stayed up the pitch and occupied the full-backs all game.
In last Sunday's fixture, when the ball went wide, it usually ended up at the feet of the full-backs rather than a wide midfielder. Wenger sought to correct that by moving Ramsey to the flanks in the second-half, but unfortunately, West Ham scored quickly their 2nd goal which forced the manager to change things again.
I wouldn't say the issue was that Arsenal were too clogged in the centre; more that the players failed to offer the right solutions off the ball which led to it. Arsenal actually got the ball wide very early in the build-up, but instead of using that advantage that they had over the diamond by doubling up, Santi Cazorla and Oxlade-Chamberlain were too attracted to the centre. As such, West Ham didn't actually need to play the diamond that well. They simply had to stay in position and block Arsenal's passing routes.  In that sense, you could say that Arsenal's star performer in that game, Alex Oxlade-Chamberlain, who caught the eye with the some great driving runs, was part of the problem because it's his role to stretch play. But his modus operandi is not really to pick the ball up high up the pitch and drive at the full-back; instead, he likes to start deeper, as a traditional right midfielder rather than the right-winger that Wenger is trying to create. In time he will become that player, adding behind-the-defence runs to his game – right now though, he still feels a bit of an interloper in the system, somebody who you expect to create two or three exciting moments in the game but not quite fully integrated. (Of course, Oxlade-Chamberlain still created three good chances in the game which suggests he can be such an explosive player for Arsenal).
With Alexis, while it feels a little bit of the same, he's a constant outlet, somebody Ozil can feed off because he's always occupying the right full-back. Remember, Ozil's game is all about lateral movement and against West Ham, there was nobody to move towards. Indeed, it's notable that when Alexis came on, he was the one Ozil passed to most in the game.
Ozil had the best chance of the game, a shot blocked after a good one-two with Ramsey high up on the left side of the pitch. It didn't happen enough because Santi hasn't got the power to get up and down the flanks – which is why Wenger used Ramsey in such a role last season.
I thought last season Arsenal improved their positional play, the second leg against Monaco a good demonstration of the positional interchange Wenger allows and discipline. When it works, it looks great but it needs good decision-making and a clear head. Arsenal didn't have that against West Ham.
May 15, 2015
Arsene Wenger has always been wonderfully inventive with who he casts in the role of Arsenal's defensive midfielder, and sure enough Francis Coquelin's pathway to the side has been no less remarkable. We know the story by now: on another non-descript loan in his fifth year at the club, Coquelin was recalled amidst an injury crisis in midfield. He wasn't expecting to play because things don't just happen like that, but little did he know that Wenger had birds watching every pass, tackle and mistake that he made, and each favourable/unfavorable report sent back to headquarters served to shape his very future. Luck had played his part too, but when everything down to the last detail concerns a man like Wenger, luck will eventually favour you.
A place had opened up in the side for Coquelin because of injuries – and also because, as Martin Keown revealed during Arsenal's 2-0 FA Cup win over Hull City, Wenger was looking for someone that could provide the snarl and aggression that Mathieu Flamini did, but more crucially, play more proactively, pushing the team up the pitch. Coquelin did this, reinvigorating the side through the way he did things simply: winning the ball back and passing it quickly. At the same time, other pieces began to align: Mesut Ozil returned from injury back to his favoured position, Olivier Giroud came back like a dog unleashed, and Arsene Wenger could chose from a settled squad.
These things all come together to explain Arsenal's unbeaten run which began in February and ended at the start of the week, against Swansea. What it showed that finding attacking chemistry takes time and continuing on the Coquelin theme, as does somebody who bends to the will of the side. As Tim Stillman writes for Arseblog, "for Wenger, the defensive midfielder is usually the last piece of his puzzle." Yet, as we found out in the 1-0 defeat to Swansea, Coquelin is still some way from the perfect fit. He's as good as Arsenal have got – a halfway house between Mikel Arteta and Flamini – though to be truly "The Answer", he needs to add more subtlety to his game.
In that game, Coquelin was constantly found wanting as the outlet in possession at the back. In fact, he's the exact opposite: a decoy when Arsenal have the ball in defence, looking to shuffle opponent midfielders this way and that to open up space for the centre-backs to pass through. Indeed, after the 3-1 win over Hull City, Wenger praised the way Laurent Koscielny and Per Mertesacker stayed composed with the ball at the back, patiently waiting for an opening to develop. Coquelin by contrast, rarely took responsibility for this and in an opening 35 minutes, when Arsenal assumed a two-goal lead, he only made 9 passes. Against Swansea he was more involved yet hardly the pivot that you need when defences are set. Wenger, though, is inventive in that regard when details his midfielders to push up the pitch, to force the opponents back so that Arsenal can play as much as possible in their half. I expand on this tactic in my most recent Arseblog column.
In that game, he also asked Ozil and Santi Cazorla, in addition to Ramsey, to drop deeper for the ball and use their 1v1 ability to get into space or play the pass through. It will be interesting to see how this tactic will develop; whether it was the players who initiated this move by being drawn to the ball or Wenger is trying to draw the opponent's backline out simultaneously – a la PSG – to play the ball over the top (thus the recent recasting of Theo Walcott up front).
Though the big issue is the role of Coquelin. Does he take it on himself to become a more nuanced midfielder? Because he is a far more subtle player than given credit for; his first-touch is clever, which he uses to get out of trouble, while he has two good feet. And we haven't seen his reaction if opponents press Arsenal up the pitch. Does he continue to follow the same movements away from the ball carrier? The call for him is not to become a playmaker but if he doesn't get on the ball enough, then Arsenal's fluency can suffer, especially if others are forced to come towards the ball and away from the goal. As Johan Cruyff used to say, if the holding midfielder is not involved, then he becomes a "block", stopping you from passing the ball out effectively. More pertinently he adds, "if you bring the ball out well initially, then you'll play well. If you don't do that then there's no chance of playing well."
Read my latest Arseblog Tactics Column: SWANSEA FRUSTRATE AS COQ BLOCKED
March 3, 2015
In between two desperate lunging headers, there was calmness, as Olivier Giroud put to bed a nightmare week to send Arsenal on their way to a 2-0 victory over Everton. His goal was trademark Giroud: a dash to the near post before guiding the ball into the bottom far corner. His other key trait, his heading, can fluctuate wildly as from outside play, Arsenal rely on his aerial prowess heavily; however, in front of goal, desperation seems to kick-in, as if scoring them should be a norm for him. Still, his greatest ability is perhaps his determination, as Arsene Wenger alluded after the win; that he kept searching for the chance.
The whole team too needed to respond and they did, although this was probably a more promising step forward than the other "reactions" we have witnessed this season following setbacks.  Previously, the response has been for Arsenal to stand off and cede possession just to give a little solidity to their defensive game in that sense, the Monaco game was a bit of an aberration, where the Gunners totally dominated) and although here, Wenger said "we could do better with the ball", The Gunners were more proactive in their approach without it. As such, the game was more or less even (possession 48%/52%): when one team attacked, the other tended to press early then drop back into a compact shape. As 7amkickoff noted on Arseblog News, tackles (11-12), territory (50.5% – 49.5%), crosses (26-24), corners (8-9), seem to corroborate that but Arsenal were far more purposeful in the attacking third.
Arsenal try to press, centre-backs follow Lukaku
The early period, between 15-20 minutes, was dominated by Everton. Perhaps that was to be expected because Arsenal were always going to be a bit cautious after the 3-1 defeat to Monaco in midweek. On the other hand, Everton made it difficult for Arsenal to really gain a foothold in the match by being a bit risk-free themselves on the ball, stretching the pitch with the full-backs and looking to lure Arsenal out.
At times it worked, especially when they bypassed Arsenal on the flanks and had The Gunners forward players turned. It probably hints at Arsenal's weakness as much as Everton's strength when they push Seamus Coleman and Luke Garbutt forward because Arsenal's press is not entirely co-ordinated.
It's not unusual to see the forward players – namely Alexis Sanchez – gesticulate and cajole their team-mates to push up the pitch though no-one follows, or if they do, they usually do it with a brief burst of intensity. Indeed, Alexis's pressing should be the signal for Arsenal to up their intensity; instead as he goes by himself, it often shows up the rest of the side, or has the unwanted effect of exposing the midfield. That's the issue with Arsenal: there doesn't seem to be clear understanding between the team on when to move up the pitch together, or what the triggers are to really up their intensity. Against Everton, that natural cautiousness meant Arsenal were able to retain a compact shape and cut out the passing lanes to Lukaku. Still, there were moments when the body twitched, and in that sense, it's a tortuously fascinating experience to watch Arsenal grapple with the concepts of moving and reacting as a team together, as if Wenger asked them to analyse ten Salvador Dali paintings before sending them out on the pitch.
Thankfully against Everton the shape was more promising and the line just the right height not to allow Romelu Lukaku the chance to run behind. Still, Gabriel and Laurent Koscielny were diligent in their efforts to mark Lukaku, often following the striker across the pitch. It's undoubted that having the two centre-backs in the backline aids Arsenal's pressing strategy, to get the team up the pitch, because both players love to intercept and win the ball back early. In Wenger's pressing game, whole team essentially has to man-mark and get tight, and Gabriel and Koscielny's style might just be the platform to transform Arsenal into a better pressing outlet.
Ozil, Cazorla central to the way Arsenal create chances
Once Arsenal settled, the game proved to be an intriguing, if not entirely entertaining, example of how two sides noted for their treatment of the ball, can be so different. What the match showed is that possession football is diverse – as diverse as the game itself (as everybody passes the ball) – and that there is no such thing as a single, homogeneous style of build-up play.
Arsenal's style is mainly position-based, and as such, it's easy to identify the typical passing lanes. The centre-backs pick up the ball and look to feed one of the midfielders, in this case Francis Coquelin and Santi Cazorla (though neither is as adept in deep positions as the absent Mikel Arteta. Coquelin is improving, though he's far from a prober, rather a player who uses his first touch to open up passing lanes), who in turn has the option of passing it to a myriad of attacking players who have committed forward in front of him. With this approach, Arsenal look to have as much of the play in the opponents half as possible and it's up to the players, based on a know-how accumulated over time and matches, to find solutions.
Everton on the other hand, have the majority of their play at the back and are happy for it. Instead, they look to work space patiently by stretching the pitch as wide as possible in the hope that eventually, this will create a bit of space for one of the midfielders in the 4-3-3 to find a killer pass.
In this game, Arsenal were much better equipped, and with the attacking quality they have, looked to get them combining as often as possible quickly in tight spaces. The way Arsenal do this is by creating a numerical advantage on one part of the pitch by committing an extra man to the build up.* Naturally that suits Ozil, who loves to drift into the channels, though with Alexis going the other way, found it more fruitful to move to the left. Kieran Gibbs would then come haring down the touchline to offer an outlet to play a penetrative pass forward, or wait for Santi Cazorla who would push forward to create an extra man. The aim is to create numerical advantage through overloads; situations of 3v2, 2v1, or 4v3, particularly in tight spaces and then suddenly break through with a incisive pass or late run.
There was was a bit of apprehension about Arsenal's play against Everton that meant they didn't quite profit from these moments as they might have, (because those moments against Monaco were when Arsenal over-committed) though the best moments that wasn't goals featured such build-up. Hector Bellerin's blocked chance halfway through the first half and two Santi Cazorla long range efforts a few such examples. In the end, Arsenal showed the special quality that they have above Everton to make the difference; Olivier Giroud's expert finish and then Ozil's fantastic cutback to find Rosicky which sealed the win.
*
Mikel Arteta explains how Arsene Wenger cultivate moves like this in a feature for Four FourTwo Performance:
"At Arsenal, we do a lot of exercises where you have to play through the mannequins, but you can use cones. This is a great drill because it's real; you're moving and finding the holes to play the diagonal pass, just like in a match.
"The drill starts with player one passing the ball through two mannequins to player two, who with one touch steps through the next two mannequins. He then passes the ball to player three on the outside. Player three returns the pass and begins his run around the three mannequins, forming a triangle
"Playing one-touch football, player two and three exchange passes between mannequins one, two and three. Once player three has run past mannequin three he plays the ball back to player two and sprints around mannequins four and five.
"Receiving the pass, player two takes one touch through the mannequin gate and plays a diagonal pass to player three as he runs past mannequin five.
"The process repeats itself, with each player swapping positions in a clockwise direction. This drill will help you during a game when out to create two versus one situations against a defender.
"It's also great for finding the spare man. Think of player two as a midfielder and player three as a full back or winger on the overlap."
February 9, 2015
Tottenham Hotspur 2-1 Arsenal
There is a fantastic conversation, in Issue Four of The Blizzard, between Didier Deschamps and Jean-Claude Suaudeau, where the former World Cup winner (and now France coach), mentions that in today's game, there are "two zones of truth…if you've got a great keeper and a great striker, you're not that far from victory." Set against the backdrop of Barcelona's impending Champions League triumph in 2011, a 3-1 win over Manchester United, Deschamps comments may have come about due to the helplessness one feels when facing the Catalan side. Naturally, Suaudeau, a former coach of Nantes and someone who is from the same philosophical bloodline as Arsene Wenger, disagreed. He said that "a game is won in midfield. Only the midfielders are able to find the right way to play. They are the animators. They are the inspiration. The more players of that kind you've got, the more you can hope to win in the long term."
As it happened, he was proved right, as Manchester United were comprehensively outplayed in the final, suffocated by Barcelona's asphyxiating press and expert ball manipulation.
Yet, after Arsenals 2-1 defeat to Tottenham Hotspur on Saturday afternoon, it was hard not to side with Deschamps. Had Arsenal had a high-class finisher up front, perhaps The Gunners would have made more of their fleeting but mainly promising forays forward. And between the sticks, if David Ospina had exuded more confidence, perhaps he wouldn't have meekly flapped at Moussa Dembele's header before the ball fell to Harry Kane to equalise. At the end of the game, that's the line Wenger chose to go with, saying that Arsenal gave "two cheap goals away", the winner from Kane originating from an unchallenged cross from the left-wing.
However, that's altogether too simplistic a way to explain the result, and conveniently absolves the team from what was a strange performance. Arsenal were out-passed by Spurs, which was not altogether a surprise considering that that's been The Gunners' tactic in the last few games: to sacrifice a bit of possession for the good of the team structure. Yet, it was the knock-on effect – what people described as "being out-fought" – that was the most galling aspect of the defeat.
Wenger hit the crux of the issue when he said that once Arsenal went ahead, they "thought too much about defending, and not enough about playing." In other words, the gameplan which has broadly served them well recently, to stand-off, soak up pressure and keep opponents roughly at hands length, became self-pervading, such that when Arsenal got the ball, possession became almost an anomaly – unnaturally to the overall pattern of the game – and the players were almost dumbfounded with what to do with it. Indeed, they were often so far deep that they were unable to play the ball out, while Spurs'counter-press confounded the misery.
Key attacking players had off days; not least Aaron Ramsey and Santi Cazorla, the midfielders who Suaudeau says set the tone of how you play. In the case of Cazorla, so mesmeric in Arsenal's recent good form, was harassed each time he got the ball and not even his ambidexterity was able to get out of the swarm of white shirts that surrounded him. Ramsey was even more of a disappointment, either miscontrolling the ball or running into blind alleys. It didn't help that there was very little structure when Arsenal got the ball, and because they were so deep, relied instead on impossibly quick combination play at the edge of their own to progress up the pitch. It's no wonder that they resorted to playing long-balls to Olivier Giroud: – which, on another day would have been a perfectly good response to evading Spurs' press (Ospina to Giroud, 14 times, was Arsenal's most frequent passing combination). Instead, the French striker increasingly had to funnel deep for the ball and even when Arsenal found him, there was little strategy behind except rely on his muscularity, and hope that Danny Welbeck could neglect his defensive duties for a moment to get close to him. In those instances that he did, he looked dangerous, essentially creating the opening goal with his run, yet on other occasions, his narrow positioning allowed Danny Rose get forward unopposed.
With Arsenal losing so late, it's understandable that some chose to assign defeat to two errors (though that explanation disregards everything that happened before – namely the pressure that Spurs put Arsenal under prior) and that Deschamps says the two most important players are the goalkeeper and the striker: there's so much in between that is unknown. Especially considering the midfielders Arsenal had, it's hard to understand how their considerable know-how didn't inspire the team, and allow them to pass through Spurs' first line of pressure. For some, you can pinpoint to Arsene Wenger laissez-faire coaching style which compels the man on the ball to find solutions himself rather than through rigid instruction. For others, it was as simple as key players not "turning up." That might be closer to the truth. As Wenger says, the way Arsenal play is fragile. "Our game is [about] psychology and the mental aspect. In the final part of the game when the result is not settled, it's always very important."
Against Manchester City, Arsenal were the underdogs with a poor record against the top sides, thus had nothing to lose. At Tottenham, the drop-off-and-let-them-have-the-ball strategy conflicted with their underlying philosophy and belief of being technically superior to most other sides. Cautiousness pervaded their whole play such that it became the approach. Santi Cazorla, who perhaps symbolises what Arsenal are about at the moment, was the first to be replaced, not necessarily because of his inability to find a team-mate, but mainly because he was far too passive in defence.  In that case, you might ask why Wenger didn't ask his team to push up 10-15 metres up the pitch. The answer is probably that the team didn't know how to because the pressure was incessant.
The strategy off sitting-off and defend as a compact block in their own half is something which Wenger usually deploys in certain, difficult moments of the season, as he did last season against Spurs, Chelsea and Liverpool – though Arsenal were battered in the final two games – and certainly, it's a viable tactic with the right motivation. The Brazil 1970 team were one such team who were convinced to work as a collective and drop off "behind the line of the ball" as a 4-5-1 because coach, Mario Zagallo, said his "team was not characterised by strong marking."Similarly you can say the same thing about Arsenal who brought in Welbeck for his industry while Francis Coquelin, in holding midfield, was one of the few players who stood out. In the end, however, Arsene Wenger paid for his team's own callowness, an approached that tipped too close to defensive than Arsenal are used to.
2 comments so far (is that a lot?)
November 20, 2014
Arsene Wenger was talking about a striker who he signed in his second season in charge at AS Monaco, the Argentine Ramon Diaz. In training, he would say Diaz was so focused on his finishing that "every time he missed a chance, he went absolutely mad. I said to him 'calm down' He said to me: 'Boss, I played 8 years in Italy; I had one, maximum two chances per game. I knew if I missed one, my game was over.' That's a little bit [similar] to the Premier League. You do not get 10 chances. You do not get five. You get one or two and you have to put them away."
It was this anecdote, with a caveat of sorts, which Wenger chose to repeat before Arsenal's 1-1 draw against Leicester City, on the eve of the summer transfer window, seemingly throwing the gauntlet to his strikers to be more clinical or be replaced. Arsenal's riposte was a positive one, shooting 24 times at goal; though at the end of the game Wenger bemoaned the lack of clear-cut chances created. Alexis Sanchez opened the scoring with a near open-goal after Yaya Sanogo had fluffed his lines, but Arsenal were pegged back three minutes later when Leicester equalised and were then able to sit back and comfortably able to see the game out for a draw. The next day, Wenger reacted and splashed out £16m on Danny Welbeck.
In a nutshell, this anecdote also sums up Arsenal's season, though it's at the other end of the pitch where it is most relevant. That's not to say Arsenal have solved their (relatively normal by most standards) goalscoring troubles; Welbeck has slotted straight into the starting line-up but his two league goals is not enough of a return for the promise he's shown. His hat-trick against Galatasaray was a tantalising demonstration of what he can deliver: a high-class display of controlled aggression mixed with clinical finishing, but on the main, he's been a little too nice, Will Smith nice.
By and large, however, Arsenal have been bailed out by Alexis Sanchez, whose impact – eight goals and two assists in the league – would have been more salivating if not for the frustrating way Arsenal continuously shot themselves in the foot.
Arsenal's last fixture was a perfect case in example. The Gunners, having taken the lead with a fine counter-attacking move, finished of course by Alexis, should have then found the restraint within themselves to sit back and soak up the impending pressure that was to come from Swansea. Instead, on a dank, wet evening in Wales, they flooded bodies forward in an attempt to get another goal and were punished, as four minutes later, and two goals worse off, the scoreline was reversed. It was a similar story against Anderlecht four days earlier when Alexis contributed with a superb volleyed goal to help Arsenal to a three-goal lead before they threw it all away for a draw.
Contriving to drop points has been Arsenal's main problem this season. In a broader sense, it has been Arsenal's problem for a long time, but last season, however, The Gunners, on the main, managed to reverse that trend by controlling moments better. That is, they ensured that they were a goal up, or at 0-0, for as much as the match as possible, before exploiting their opponents' tired legs. Arsenal's failure to do that this season explains why their underlying numbers – their possession per game, shots, dribbles, interceptions etc. – have been very good, yet their position in the league is average by comparison.
The problem, as Michael Caley explains for the Washington Post, is that Arsenal "struggle in the clutch" – that is they tend to fall short in the crucial moments that come between winning and losing, and when the pressure is up. To underline the point, Arsenal have scored first only six times this season, and have gone on to win three of those matches (Burnley 3-0, Aston Villa 3-0 and Sunderland 2-0). Two out of the six matches they have drawn (Leicester 1-1, Hull 2-2) and lost one (Swansea 2-1). On the one hand, however, they have shown some resolve by rescuing a point or winning four out of the five times they have fallen behind by conceding first (Man City, Everton 2-2, Spurs 1-1, Crystal Palace 2-1). The issue is, though, that Arsenal have spent more time losing (244 minutes) than winning (175 minutes), and even when they are winning, contrive to conceded goals very quickly.
As Caley explains, shooting conversion increases or decreases depending on what the game state is. He says, "in general, when a soccer team is losing by a goal, it will convert its shots at a lower rate than when it is winning by the same score. Teams tend to outperform their expected goals by several percentage points when winning and under-perform when losing. This is most likely an effect of defensive pressure. Winning teams will sit back and keep more men behind the ball, while losing teams will push forward looking for an equaliser. And indeed Arsenal has done much more of their attacking in less favourable game states compared to most of their competition."
What makes it worse for Arsenal is that opponents only need to attempt a paltry amount of efforts to score a goal. Currently, Arsenal concedes a goal every 6.4 shots. Wenger pinpoints much of this down to confidence, not focusing enough at key moments or succumbing to complacency when The Gunners do score. Certainly, there is an argument that the defensive efficiency in Arsenal's game is not there yet. Last season, Arsenal managed this by being pragmatic, by retreating to a low defensive block and then hitting teams when they showed mental or physical tiredness – usually through the lung-busting runs of Aaron Ramsey.
This season, they have failed to find efficiency because the team still seems to be unsure of what it wants to do at various stages or yet, haven't acquired the game intelligence to carry it out; whether to press high up or sit back. That can be highlighted by the first goal Arsenal conceded in their 2-2 draw against Hull City.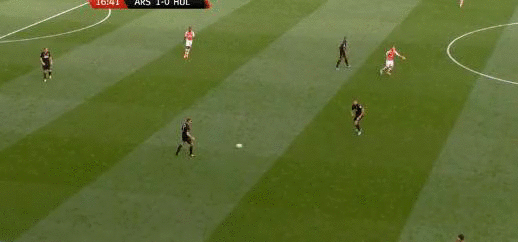 Here, Jack Wilshere urges Santi Cazorla to press when nobody else is, eventually leaving Mohamed Diame free to pass to. Wilshere had the right of it to some extent, as Hull's player had picked up the ball with his back to goal – which should have been the trigger to press – but where he was wrong was that the whole Arsenal team showed no indication to squeeze play prior, with Hull completing 3-4 passes in that area with relative comfort anyway.
In more recent games, however, Arsenal have been more exposed on the break. As Wenger says, "we have put a lot of effort into our work to be more efficient but we give chances away that very few other teams do. At the moment our opponents have made the most of what we have given away." The work Arsenal have put in to be more efficient has been two-fold, recurring around how they keep the ball and how they press without it.
Firstly, on their ball work. Wenger says that the team has "progressed since last season in the way we dominate the games and the way we combine," which may confuse some given Arsenal's league position, but what people might be missing are the palpable steps Arsenal are taking to improve to their positional play. In that, Wenger is looking to emulate bits of the Germany/Pep Guardiola/Dutch 4-3-3 model where the attacking line in the 4-1-4-1 occupies the length of the pitch, thereby always creating angles and options to pass to. As Leighton Baines says, in an interview for The Guardian when talking about Everton's philosophy which goes along the same branch, "the really top teams who have mastered this way (Dutch Total Football), are the ones that gets success."
On the other hand, emphasis on death by possession makes it tougher for Arsenal to defeat teams as often; defences are set thus making it more difficult to get through. It has made Arsenal more sterile in effect, one of the things Wenger has strived to avoid. However, he has probably come round to see it as a necessary evil because sterile domination is not really an aim for possession teams; rather, it's a by-product of their voraciousness to have the ball. Keeping the ball better also has the added effect of protecting the team from the counter-attack, an increasingly important aspect when planning your team in the modern game and what Jose Mourinho calls the "fourth phase": attacking, defending, counter-attacking, and then, countering the counter.
Increased work on Arsenal's positional play has sought to protect Arsenal from the counter, with players looking to take up positions off the ball so that all key areas on the pitch are occupied. That can be highlighted by the relationship on the pitch between Santi Cazorla and Alexis who switch positions depending on whether one goes inside, or the other stays wide. As Wenger explains, Welbeck can also join in to fill the gaps. In the past, perhaps, Wenger would give too much freedom to his creative players to go where they want but by incorporating little chain reactions, gaps can be covered. In recent games, Wenger has tinkered the set-up to give it a 4-4-2 gloss, though as a result, the team's fluency has suffered, most notably in the 3-3 draw against Anderlecht where the ball was frequently turned over.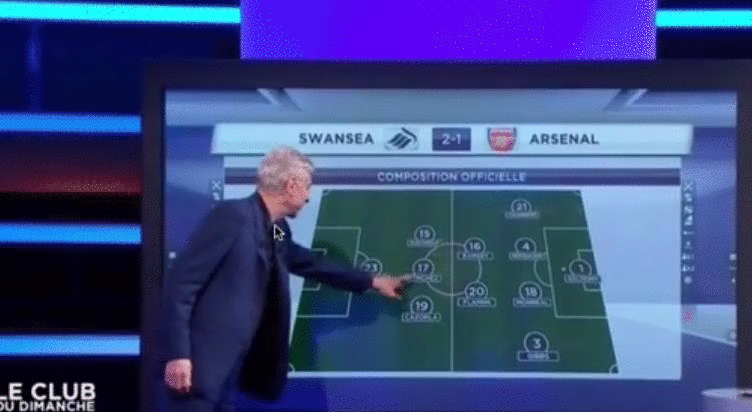 It is thought that an effective possession game must be backed up a fully synchronised pressing system and this is where Arsenal have failed. Perhaps, they're not suited to such a high-intensity game because it requires concentration and awareness from the whole team and indeed, such a thing was even admitted by Mario Zagallo of his side when coach of Brazil in 1970. "We played as a block, compact," said Zagallo in The Blizzard, Issue Three). "Leaving only Tostao up field. Jairzinho, Pele, Rivelino, all tracked back to join Gerson and Clodoaldo in the midfield. I'm happy to see the team in terms of 4-5-1. We brought our team back behind the line of the ball….Our team was not characterised by strong marking."
Certainly Arsenal have missed Laurent Koscielny and Mikel Arteta for certain passages of the season, to of their most astute players, yet on the other hand, the best pressing teams in the past have been led by not necessarily the best runners, but the men on the touchline, usually infectious, obsessive types – Arrigo Sacchi, Pep Guardiola, Valeriy Lobanovskyi, Jurgen Klopp, to name a few. That probably hints at psychological effort required to play such a way, and why perhaps more teams don't do so when logically, they should because modern players are "taller, faster and stronger, and can press right up to the penalty area" says Arrigo Sacchi. But with Pep Guardiola citing motivational reasons for his departure of Barcelona and subsequently, the lack of pressing from his successor, Tata Martino, it suggests it plays a big factor in coaches using it.
In any case, Wenger says, pressing "isn't about covering distances, it's about doing it together" and that probably indicates that he is trying to find a balance between pressing up the pitch in certain moments –Wilshere talks about the five second rule that Arsenal are working on implementing when opponents lose the ball – and dropping back into a compact block. It's an urgent need for Arsenal to learn quickly because there is a feeling that also there is wasted potential in this side; that with the right configuration, there is an exciting blend in this Arsenal team which is waiting to burst to life.
October 6, 2014
"I wanted to go from A to B and somebody confronted me," said Arsene Wenger after the game which, if he was talking about the match, would have been a fairly accurate description; instead he was talking about the touchline kerfuffle with Jose Mourinho which added an unsavoury side story to a well-contested, if a little scrappy encounter.
Chelsea won 2-0 thanks to goals from Eden Hazard and Diego Costa, providing two moments of, well, moments if not outstanding quality in a largely even match-up. Yet Chelsea have that extra edge, that killer instinct that Arsenal perhaps do not possess. Or if they do, was not utilised properly. And that, in a sense, was the main source chagrin for Arsenal fans.
Whenever these two sides play, talk is always of the gameplans and here, no side wanted to give anything away (though Arsenal did when Laurent Koscielny felled Hazard for the penalty). Yet Chelsea's discipline was encased in a system they understand. Positional changes are minimal, most likely counter-specific, and the strategy coherent. Arsene Wenger chose again with their big-game 4-1-4-1 which is not incorrect in its thinking, but can be undermined by where he selects the player.
Here, he wasn't far off the correct balance – feasibly, all he had to do was switch Mesut Ozil and Alexis Sanchez around. As a result, with both players playing on their "opposite" side, Arsenal's play was often too central. Of course, this is how Arsenal often play, looking to create overloads and then quickly switch play with a quick, penetrate burst across the line or from deep – though in this case there was nobody to make those runs. Wilshere actually got through a couple of times through neat interplay – and nearly did again but Santi Cazorla shot – but his touch let him down. Danny Welbeck, on the other hand, played curiously more deep-lying than he did against Galatasary, often picking up the ball in the gap just off the two Chelsea centre-backs.
The difference in performance (forgetting opponent quality for a moment) showed how dependent instinct players, nay creative ones too, are on the energy and quickness of thought of those around them. In the aforementioned match, Arsenal had Alex Oxlade-Chamberlain stretching the pitch on one side and Ozil's lateral movement, starting behind Welbeck, making Arsenal fluid. With Ozil starting wide right against Chelsea but never sticking there, it changed the dynamic of how he creates, instead of going inside-to-out; he was going the other direction without any real opposite movement. By switching Alexis to the right, perhaps Arsenal could have had that vertical pentration they sorely needed. In any case, despite his creative performance against Galatasaray, Alexis's best position is probably on the right where he can burst behind as he's not really the dribbler that he's made out to be playing on the left.
The lack of runners exacerbated the issue of the 4-1-4-1 because while Arsenal passed the ball neatly at times, it felt like cautiousness in possession for the sake of it. The joy with Arsenal is how the ball gets from A to B, often by getting off at stops C, D E and Z in the process: the new system, however, seems have a stifling effect on how well Arsenal move the ball – almost as much as Chelsea's systematic fouling in this match. Nevertheless, Arsenal can still remain optimistic about this season – or more appropriately rather, this team – it just needs the right configuration, because there is an exciting blend in this side. The Gunners attempted 50 take-ons, a staggering amount considering that it was against Chelsea, a side known for their eagerness to close down spaces quickly. Perhaps, the extra dribbles Arsenal attempted were as a result of Chelsea's tight marking, but at the same time, it shows a daring on the ball that Arsenal have lacked in the recent past.
Looking at the other end of the pitch, the difference between Arsenal and Chelsea might have been summed up by Cesc Fabregas. Not because of the sumptuous pass he provided for Diego Costa for the 2nd goal, but because he delivered what was probably his most disciplined performance in any shirt – annoying it just happened to be for Jose Mourinho and significantly, against his former club. In front of him, Oscar and Diego Costa worked extremely hard in a pressing structure which was more coherent than Arsenal. Jack Wilshere talked about the "5-second rule" Arsenal have when they lose the ball or force the defenders back towards their own goal, though it was visibly evident that whenever he or Alexis pressed up the pitch, the other players didn't follow – or at least not with the required intensity. On the whole, Arsenal moved up and down the pitch well last season, largely because they played 10metres or so deeper therefore it didn't require as much fine-tuning.
For Chelsea's first goal, Arsenal seemed to be stuck a little in between whether to press or stand-off. Granted, The Gunners had just lost possession through Alexis thus they didn't have enough time to recover but a more coherent strategy would have seen Arsenal get tighter and shuffle across. If it was a hard goal to deal with because Chelsea reacted quickly and Hazard is majestic in this form sort of form, jinxing away from defenders, it showed also how wingers can profit from space in between the full-backs and to the side of the holding midfielder (usually called the half-space). Ozil often exploits this space brilliantly when he plays as a no.10 by drifting wide and then combining quickly with the winger. Arsenal lost that with him starting out wide and he often had to come to the other side to combine. In the moments Arsenal got through, Jack Wilshere was the one who became the spare man and at times, overwhelmed Nemanja Matic.
It didn't happen enough however; Chelsea snuffed out the space well, especially the Serbian holding midfielder, who didn't really impose himself due to his sheer physicality but by just "being there." He has an almost OCDish quality about his defending, a preoccupation with the orderly which is a bit like "shall I go there? Of course I must go there; otherwise our structure won't make a perfect 4-2-3-1." Flamini was more eye-catching and busy but while his best work is usually around the edge of the box, he can be a bit standoffish when the ball is in midfield. Arteta, on the other hand, when he plays, is great when he gets tight and presses the opponents in the centre of the pitch, but not so good going backwards and forced to use his pace. It goes without saying, a modern, dynamic midfielder is one which would improve Arsenal massively. If that sounds a little demanding – because who is out there that fits the profile? – that's the margins Arsenal are judged on in the top matches. And it was margins that made the difference between Chelsea and Arsenal. With only two shots on target posted in the whole match, Chelsea scored with both of them.